Focusing Your Career on Growth and Opportunity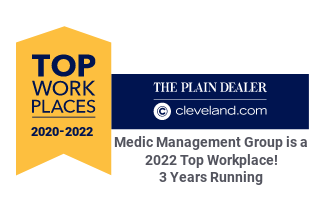 Looking for your next career step? We are growing! Medic Management Group has the right job for you, complete with attractive benefits, career challenges, and opportunities for growth.
We've been recognized over the years as one of the Cleveland Plain Dealer Northeast Ohio Top Workplaces. We excel at engaging our employees in delivering the highest quality healthcare management services so that our clients can focus on caring for their patients.
Our Vision, Values and Culture
Our vision is to be the leading provider of business improvement solutions and to support physician practices and providers who share our values and value our support. Our team members are the key element in helping our clients achieve their goals and we empower our team to deliver timely, critical services.
Each team member brings a unique perspective and we value being an inclusive workplace. We appreciate diverse approaches to continuously improve our client service delivery and firm.
MMG values come to life daily in our interaction with each other as fellow colleagues and our support of valued clients. Our culture is defined by core values including:
Clear, consistent, and timely COMMUNICATION with clients and teammates.
Demonstration of RESPECT for all others and for the processes we execute.
Leverage of TEAMWORK to ensure best thinking and results.
Appreciation that ACCOUNTABILITY ensures promised outcomes.
Expectation of INNOVATION to solve problems and create new opportunities!
As a member of our team, you'll find Medic Management is a place where your contributions are valued and recognized. We enable our clients to run better performing businesses and we consistently support team members in achieving their personal and professional potential.
Medical
Dental
Vision
Flexible Spending Account
Group Term Life Insurance/Accidental Death & Dismemberment
Supplemental Employee Life Insurance
Supplemental Dependent Life Insurance
Short-term Disability
Long-term Disability
Wellness Program
Retirement Savings Plan/401(k) with Company Matching
Paid Time Off (PTO)
10 Company Paid Holidays
Employee Assistance Program
Employee Referral Program
Employee Recognition Program
Quarterly Employee Incentive Bonus Program (for those eligible)

Open Positions
For more information on career opportunities at Medic Management Group and a list of open positions, check here.
To contact Human Resources for employment inquiries or other questions, please complete the form below.
CONTACT US
Serving clients nationally, Medic Management Group professionals are located throughout the United States. We're always here to help. Please reach out using our form below and a member of our team will be in touch.